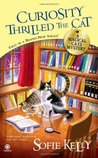 Curiosity Thrilled the Cat
by
Sofie Kelly
My rating:
4 of 5 stars
Back of book: Small-town librarian Kathleen Paulson feels good about letting two adorable cats help themselves to her home. But as she's about to find out, it's their help she needs....
I read the second and third books in this "magical cats mystery" series, because they were a win from the Cozy Chicks blog several years ago. I really enjoyed those 2 stories. Even though the mysteries are stand alone in each book, it was enjoyable to learn the beginnings of the relationships in Mayville Minnesota.
Sophie weaves these somewhat fanciful stories of cats with magical powers so that they are almost believable. I really like the main character, Kathleen Paulson, her friends Roma and Maggie, and her neighbor Rebecca. Hunky Detective Marcus Gordon adds a bit of sexual tension. This is a G-rated book, though, so don't expect any steamy bedroom scenes!
I am doing a Cruisin Thru the Cozies challenge this year, so I intend to read the rest of the series.
View all my reviews
Stay Busy and Stay Happy